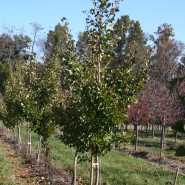 Ginkgo Autumn Gold
Ginkgo biloba 'Autumn Gold'
Ginkgo trees are admired for their brilliant, long lasting yellow fall foliage display and their unique leaf shape.  They are popular trees in urban conditions where few trees are able to withstand the city environment.  Not bothered by air pollution, heat, cold, insects or disease,  they show why their species has survived for over 200 million years.
The Autumn Gold Ginkgo is known for having a brighter beautiful yellow – gold fall foliage.  The Autumn Gold Ginkgo is a  male cultivar, which means it will not produce the unpleasant smelling fruits the female tree do in the fall.
Growth Rate:  Slow, to medium.  Form: Pyramidal and rounded.  Height: 50′ to 75′.   Spread: 40′ to 50′.  Exposure:  Full sun to partial shade.