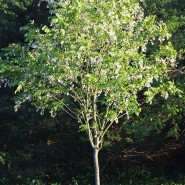 Yellowwood
Cladrastis kentukea
The Yellowwood is a tall growing flowering tree that can also work as a shade tree in smaller spaces where an Oak or Maple might be too large. The pendulous fragrant white flowers appear in June  and are loved by pollinating insects.
The foliage on the Yellowwood in summer is attractive deep green and is very resistant to disease and insect damage.  Fall transforms the tree into brilliant gold. The smooth, light grey bark and pleasing structure of this tree make it an attractive specimen in the winter months.
Growth Rate:  Average.  Form: Rounded and vase shaped.  Height:   30′ to 50′.  Spread 35′ – 50.'  Exposure:  Partial shade or partial sun to full sun. Bloom Color: White.  Bloom Time: Late Spring.