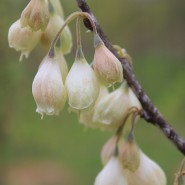 Carolina Silverbell
Halesia tetraptera (formerly H. carolina)
A wonderful native understory tree offering multiple seasons of interest.  The ridged and furrowed bark offers winter interest, unusual enticing white to pale pink, bell shaped blossoms add charm in the spring and early fall brings a nice yellow fall foliage display.  The seedpods are also ornamental and bring interest in fall and winter months.
This selection will perform best in moist, well drained rich organic soils.  This tree can be difficult to transplant and will require care attention to watering needs until re-established.
Growth Rate:  Medium.  Form: Rounded.  Height: 30 – 40.' Spread 20 – 35.'  Exposure:  Semi shade to shade.  Bloom Color: White.  Bloom Time: Spring.