Trees We Love – Yoshino Cryptomeria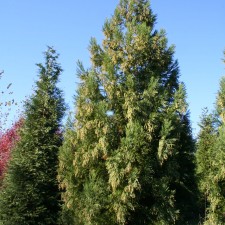 Cryptomeria japonica 'Yoshino', Yoshino Cryptomeria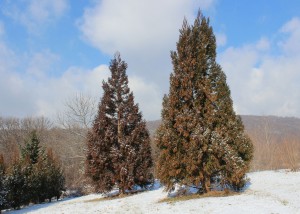 The Yoshino Cryptomeria is a wonderful tree to create a dramatic focal point when planted as a lawn specimen.  It can also be used as a fast growing screening tree offering interesting texture and foliage color.   A perfect choice when you are looking for something a little unusual to include in your garden.
Origin
The Cryptomeria hails from Japan and is their national tree.  It has been cultivated for centuries in both Japan and China as both a timber and ornamental tree.  It was introduced into America in 1861 and is enjoyed as an ornamental evergreen tree in this country.  Wikipedia has an interesting in depth study of the history and uses of this wonderful tree.
Attributes and culture
The unusual foliage texture is what immediately attracts closer inspection.   The color is a refreshing light forest green.  The parent tree, the Cryptomeria japonica, turns a dark bronze/purple color in the winter and has large spaces between the whorls of branches. The Yoshino cultivar has been selected because it becomes only slightly bronze in the winter and has a much denser branching habit.  The slightly pendulous branches are spaced just far enough apart to reveal glimpses of the trunk.  The trunk is also ornamental with gorgeous cinnamon bark which peels in long strips.
The fruit (cones) of this tree are interesting and unique.  Small, purple in color when young and becoming dark brown when mature. They are ½" to 1" in diameter and borne in clusters tucked within the branches.
This tree can grow quite fast when young and then will slow down as it gets older.   Fairly pest resistant, all it will need is regular deep watering and proper positioning in the landscape.  It will grow well in a full sun to lightly shaded location and needs to be sheltered from the northern winter winds.
Uses
Specimen Accent.  This tree will be right at home in an Asian or Japanese garden with plantings from it's home country.  Companion trees particularly attractive planted near the Cryptomeria include:
Flowering Cherry.  Kwanzan Cherry with it's broader leaf shape, extremely showy large flowers and gorgeous orange fall color will be nicely complemented by the fine texture of the cryptomeria
Japanese Maples.  The popular Bloodgood cultivar would work well, the leaf and mature size of this cultivar is very much in scale with the Cryptomeria.  The red  foliage color of the Maple will add a lot of interest.  Equally exciting might be any of the, harder to find Greenleaf Japanese Maple cultivars – or even a Full Moon Maple selection.  There is also the 'Piece de resistancé' a Paper bark Maple !
Japanese Tree Lilac.  The Ivory Silk cultivar would be especially showy with a backdrop of the Cryptomeria foliage.  It's broad foliage, showy ivory white flowers and yellow fall color would be very nicely highlighted.
Screening tree.  The Yoshino Cryptomeria is an ideal choice for use as a screening tree.  It offers a visually attractive, fast growing and pest resistant choice.  It transplants well and can be moved at quite a large size.
Want to see more pictures of this lovely tree?  Follow this link to the listing in our online catalogue
Statistics:
Key feature: Year Round Interest
Plant type: Tree
Garden styles: Asian/Zen, Contemporary, Rustic
Deciduous/evergreen: Evergreen
Cold hardiness zones: zone 5 to 6
Light needs: Partial to full sun
Water Needs: Requires regular deep watering.
Average landscape size: 30 – 40' x 15' – 20' wide
Growth habit: Upright
Special features: Deer Resistant
Landscape uses: Border, Screening
Flower color:
Blooms:
Foliage color: Dark Green