Fall is the Best Time for Planting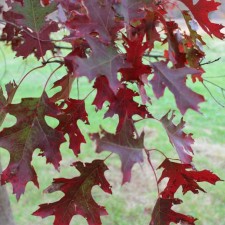 As Fall Approaches It Doesn't Mean You Have to Stop Planting
It is inevitable that when one thinks of spring, one thinks of planting. However, garden enthusiasts, landscape professionals, and horticulture organizations, such as the Virginia Green Industry Council, know that fall is quite often the best time to plant.
 "Autumn is a second spring when every leaf is a flower."

–Albert Camus
The reason is simple: fall through early spring is when plants spend their time growing and establishing their root systems. The development of strong and healthy roots is the key to growing a strong and healthy plant. A healthy root system serves as a plant's energy reserve to help the plant make it through the hotter, drier summer months.
 Mid-Septemer Until the Ground Freezes
Mid-September is the start of fall planting season; and in Northern Virginia we can plant until the ground freezes. During the fall planting season, soil temperatures are still warm from the summer sun and the air temperatures are starting to cool and moderate. These conditions promote rapid root development. As new shoot growth halts with the return of dormancy, plants require less water; the days are cooler, shorter, and the rate of photosynthesis decreases. During shoot dormancy, plants are able to focus on root development before being stimulated by warm spring weather and the ensuing top growth.
Benefits of Fall Planting Include
• Selection is prime. Growers often release the cream of the crop for the fall planting season.
• Plants focus on establishing roots, instead of growing leaves and flowers
• Plants will be larger next spring and flower more abundantly than the same plant planted in the spring
• Plantings will be better equipped to handle heat and drought next summer
• Less watering  is needed both at planting time and next growing season.
Best Plants for Fall Planting
Most container-grown and balled and burlapped deciduous trees and shrubs are excellent choices for fall planting.
Perennials and some ornamental grasses do well planted in fall. Late summer and fall is also the prime planting for spring flowering bulbs, peonies and iris.
Fall and winter is often considered the ideal time to plant shade and flowering deciduous trees. The trees take advantage of the ideal soil conditions to re-establish their root system. Large specimens can easily be moved with no concern of leaf damage during transit. Fall is also an excellent time to be able to see and select trees for their fall foliage color.
Plants Not Suited for Fall Planting
Not all plants take when planted in late fall and are best planted in spring. Broadleaf evergreens, in particular, can be damaged should the winter weather be stressful. A few of the plants to avoid planting late in the fall include:
• Evergreen Magnolia, Magnolia grandiflora and cultivars
• Hollies, Ilex species
• Tuliptree, Liriodendron tulipfera
• Sweet gum, Liquidambar styraciflua
• Willow Oak, Quercus phellos
• River Birch, Betula nigra
• Leyland Cypress, X Cupressi
• Rhododendron
• Azalea
• Holly
Caring for Your New Plantings
Transplant shock is common in newly planted trees and shrubs. Moreover, externalities, like wildlife, can add to the stress.
Late August is a good time to wrap trunks of young trees to help prevent cracking and animal damage during dormancy; just make sure to remove the wrapping in early March. Regular plant maintenance and inspection will boost the health and vigor of new plantings.
Water is the most important element in caring for your new plants. Water the new plants thoroughly upon planting. Soil type and quantity of rainfall will govern the amount of watering needed. For most well-drained soil, one inch of water per week throughout fall will promote good growth. Watering until the ground is frozen, even after deciduous trees have lost their leaves, is recommended for all new plantings. This is especially important for evergreen and helps avoid winter damage.
Mulch
Mulch is another important factor in healthy plant maintenance. A 2-to-3 inch layer of mulch is a good idea for fall planted trees, shrubs, and perennials; extending the mulch out past the end of the branches. The mulch layer will minimize temperature fluctuations, which is a benefit to shallow-rooted plants that may heave out of the soil from alternating freezing and thawing cycles. Mulch will also help to retain moisture in the soil, eliminate weeds, and as mulch decomposes, it provides a great growing medium.
Pruning
Pruning is also part of plant maintenance. However for the most part, pruning (other than to remove dead or broken branches) should wait at least a year. The Urban Tree Foundation offers a guide on training and pruning trees for strength, clearance, and aesthetics.
Fall Planting is not Just for Trees & Shrubs
Fall is also the best time for planting spring flowering bulbs. Snowdrops (Galanthus), grape hyacinth (Muscari), daffodils (Narcissi), flowering onion ((Allium) well drained locations only) are a few popular bulbs which will do well in our area, multiply and return year after year.
Fall is the time to extend your days with nature and plant for spring enjoyment. And with a little plant maintenance, your fall plantings will reward you for years to come.
Let's dig in!