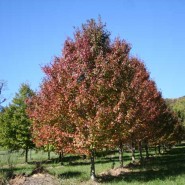 Sun Valley Red Maple
Acer rubrum 'Sun Valley'
Red Maples are one of the most popular shade trees.  They offer reliably impressive fall color, are a native tree and are easy to grow.  Red Maples are a medium sized shade tree which makes them a good fit for smaller urban properties.  A lot of breeding work has been done with this species and cultivars have been selected for a number of attributes.  Some of the attributes include: outstanding fall color and timing of the display, all male selections (no seeds) and growth habit (narrow, fast or compact).
Sun Valley is a US National Arboretum Plant Introduction introduced in 1994.  This cultivar was selected for long lasting red fall color, improved insect resistance and is a male selection which will not bear seeds.  The fall color show lasts longer than other cultivars  because the leaves gradually turn color.  Early in the fall season, the tree will have a multi-colored effect with some leaves red, others yellow and most still green.  As the season progresses, the entire tree will become a nice deep red color.
Growth Rate:  Medium to fast.  Form: Upright oval.  Height: 40 – 50.' Spread 35 – 40.'  Exposure:  Sun.