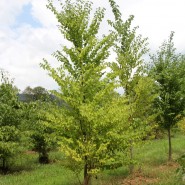 Katsura
Cercidiphyllum japonicum (Katsura)
The Katsura is great upright tree with beautiful  foliage and a very pleasing structure.
The leaf is heart shaped which is very similar to our native Redbud.  In spring, the new leaves emerge a beautiful reddish purple color and then gradually change to a bluish green color.  In the fall their leaves become a very nice bright yellow.   Also in the fall the Katsura leaves give off a nice spicy cinnamon or brown sugar fragrance.
The upright shape makes it a very versatile tree. This tree creates an exceptional garden specimen that works equally well incorporated into a garden bed or free standing in a lawn.
The bark of this tree is also ornamental. It is brown in color and as it ages the bark separates from the trunk and has loose ends giving a "shaggy" appearance to the trunk.
Growth Rate:  Medium.  Form: Upright.  Height: 40 – 60′. Spread 20 – 40′.  Exposure:  Full sun to partial shade.  Bloom time: April – May.  Bloom color: Green.